From Wednesday 15 to Monday 21 June, from Romania to the Turkish border.
A border in Europe
Wednesday, June 15, after more than a month in Romania we are preparing to leave this country. A route error in Constanta brings us to a new passage, forcing us to go through the port closed to traffic. The authorities grant us a special pass. It is a rather unusual but ultimately complicated passage. It takes us directly over a bridge, a highway with very heavy traffic, before arriving at the Bulgarian border. 
Bulgaria belongs to the European Union but not being part of the Schengen Area it still has its borders, its passage is quite easy. 
This first day in Bulgaria is quite similar to that of Romania, long straight lines bordered by fields of wheat and sunflowers as well as hundreds of wind turbines.This first day we sleep in a Bulgarian hotel with basic comfort but high quality wifi. The next day we discover the typical breakfast of the country. 
The next two days we follow the Black Sea and visit some famous places including the seaside town of Varna. A very popular place, with private beaches covered by deckchairs. The architecture of the city is not really a success.
A quick pass
Saturday we left the seaside and drove through the Bulgarian countryside which, incidentally, is very sparsely populated. The roads are calm and we cross a few villages. On these roads no comfort exists for travelers and this day we sleep in Sadovo in the garden of Angel. He lives in a basic and somewhat dilapidated house. He lives with a few animals that will certainly end up on his plate. The crossing of this campaign is quite anachronistic and sometimes we seem to travel to another time. The rest of the route takes us to Burgas and Sozopol where we end our week. The latter is located a few kilometers from the border of Turkey, a country we will talk about in the next article.
We will only have spent a few days in Bulgaria, a country which is little visited by foreign tourists and where exchanges are complicated by the language and its Cyrillic alphabet.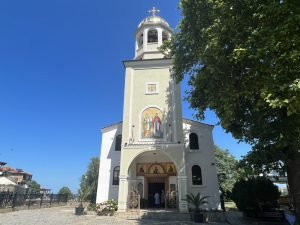 Did you know
Although belonging to the EU, the currency of Bulgaria is the LEV and not the Euro. 95% of the population is Orthodox.
Meetings :
Angel a very nice man who allowed us to camp in his garden
Popov a Bulgarian who hosted us in his house of more than 400m2
Olga and André, a Russian couple who fled their country and now live in Bulgaria. They have a cattery in which they raise Bengal tabby cats.
Where are we
During these 7 days we traveled 401 kms.You can find the route on the attached map.